About us
Victor Banner - Writer and Producer
Victor Banner
I was born in Málaga (Spain) and was captured by music, horror movies and comic books at a very early stage. In 2012 I formed the Stardust Reverie Project, a supergroup that compiled the talents of many of my heroes from childhood: Zak Stevens, Graham Bonnet, Lynn Meredith, Doogie White and many others. Jonas Hansson became my right hand in those days so one thing led to another and in the beginning of 2020 we joined forces with the extremely talented violinist Chereene Price in order to start working in something unique. Being highly influenced by Stephen Schwartz, Claude - Michel Schonberg and Andrew Lloyd Webber I decided to write my own Sherlock Holmes musical play. Lending a hand we find friends from the past and a few new ones like Clive Nolan, Gemma Ashley and Goran Edman among many others that have joined us in this wonderful journey.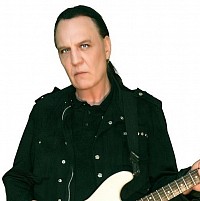 Jonas Hansson
When I was three years old I did my first live performance singing at Amiralen, in my hometown Malmö, Sweden. At seven I started playing piano. When I was twelve, I started playing guitar. Two years later I did my first tour at fourteen years old. My band "Zaturnus" became the backing band for Inger Nilsson (Pippi Longstocking). One of the gigs were at the Pamplona Bullfighting arena,  in front of 15-20000 people. That's when I decided that, "this is what I want to do in life".
When I was eighteen I recorded my first single with my band "Silver Mountain". It was made in thousand copies. Now a collectors item.
When I was twentytwo and being one of the pioneers in Swedish metal, we got signed to Roadrunner records and did our first album "Shakin Brains". After that Anders & Jens Johansson left the band to join Yngwie Malmsteen and his "Rising Force". We did a couple of more albums and were invited to Japan to headline "The heavy metal festival in Hibiya, Tokyo". As the first swedish metal band to play live and to record a live album in Japan.
I moved to LA in the nineties and produced/engineered several hundreds of albums with various artists and also did a lot of work as a studio musician for several years. Living in LA brought me closer to Hollywood and I got involved in the movie business. Making music for trailers like: Blue crush, Hide & Seek, Legend of Zorro, Hitchhikers guide to the Galaxy, 28 days later and some more. Being involved in films got me more in to the combination Photo/Film and Music. "Hitchhikers guide to the galaxy" Won the Golden trailer award for(most original trailer). Back in Sweden I started making films, documentaries, music videos, commercials and music for various projects in the entertainment industry. Also a reunion-album "Breakin' Chains" was made with the same line-up as on the first album. I've Done several guest appearences on various records. My latest guest-appearance is on Magnus Rosen (ex-Hammerfall) (Swe) solo-album featuring: Tony Martin (Black Sabbath), Janne Schaffer (Abba) among others.
I have also released five solo- albums over the years .


Chereene Price
Born in Huddersfield, West Yorkshire, I began playing the violin at the age of 6. I boarded at Chethams School of Music, Manchester from the age of 15, continuing my studies at the Royal Northern College of Music, Manchester and Aaron Copland School of Music, New York.Upon my return from New York I was given the post of Principal 2nd Violin with Northern Ballet and freelanced in the North of England. In 2005 I moved to London to start my job with the BBC Concert Orchestra and in 2012, upon returning to work after having my twin girls, I secured the position of number 5 First Violin with the BBC Concert Orchestra. My wonderful career has the most colourful variety from playing the finest symphonies with world class orchestras to gigging with the coolest jazz, rock and pop musicians.  I was the violinist for ELO's comeback concerts at the Children in Need Rocks concert at the Hammersmith Apollo in 2013 and the Hyde Park 2014 gig.

Clive Nolan
Clive Nolan is a British musician, composer and producer who has played a prominent role in the recent development of progressive and symphonic rock. Born in Gloucestershire, he was a pupil at Wycliffe College and King's School, Gloucester. He completed his B. Mus and M. Mus degrees at London University where he studied composition, orchestration and conducting. He has been the regular keyboard player in Pendragon (1986–present), Shadowland (1992–present), Strangers on a Train (1993–1994), Arena (1995–present) and Caamora (2006–present) as well as writing music and lyrics for Arena, Shadowland, Caamora and numerous other projects.
Clive was voted Best Keyboard Player by Classic Rock Society eleven times between 1995 and 2019.
In 2010 the Bolivian government awarded him with the title of Honorary Visitor to Santa Cruz, Bolivia for his theatre work in the city of Santa Cruz.
In 2013 he was awarded with the Polish MLWZ 'Golden Lexicon Award' for Outstanding Achievements in Music for his musical 'Alchemy'.
In 2019 he received a Gold Disc for his involvement in Dragon Force album 'Inhuman Rampage'.
Clive Nolan photo by Eric de Brujin
Zuberoa Aznárez
Zuberoa Aznárez is a singer, multi-instrumentalist and songwriter. She has collaborated with various musical formations of very different genres, both in international tours and in studio recordings. In addition, she has recorded 2 solo albums and 5 with his synphonic metal group, Diabulus in Musica, released internationally under the Austrian label Napalm Records.
Zuberoa began her musical career at the age of 8, studying solfeo and transverse flute. Later she studied lyrical singing, postgraduate in professional voice from the University of Alcalá, Bachelor of History and Diploma in Art History from the University of Navarra. For her training she develops a special interest in traditional and historical music. In 2016 Zuberoa recorded her first solo album and then decided to undertake in parallel with her other projects, her solo career
https://www.zuberoaaznarez.com/en/
Gemma Ashley
With classical and musical theatre training Gemma Ashley has a diverse singing and music background. She is also a trained dancer and has stunned audiences with her exceptional on-stage performances. During her career spanning over fifteen years, Gemma has had the opportunity to work as a guest artist for various cruise lines such as Royal Caribbean and Holland America. She has also served as the on-board showteam's lead vocalist for some of the leading and most popular cruise lines. Gemma's contribution in the field of music and crossover singing is phenomenal and worth acknowledging. She has not only sung the National Anthem at Wembley Stadium, on several occasions but she has also appeared on BBC1 "The Voice UK" and various other UK TV shows. Since 2012 Gemma has been receiving vocal training under highly experienced vocal coach David Barrett. Barrett is training her around the operatic "Bel Canto" tradition of 'good singing' and beauty of tone. Since 2015 Gemma has been a key member of the British Caamora Theatre Company and performed the roles of Ustane (2015, 2016) and Queen Ayesha (2016) in Clive Nolan's first musical 'She'. In 2016 she was cast in the lead role of Eva Bonaduce in Nolan's third musical 'King's Ransom". She recorded the vocals for the "King's Ransom" album released in 2017 and performed the role in the Cheltenham theatrical productions of "Alchemy" and "King's Ransom". Over the last five years, Gemma accompanied Clive Nolan in a series of acoustic shows performed around Europe including France, the Netherlands and Norway. The Norwegian show 'An Evening with Clive Nolan and Friends' was released on DVD in 2017. In September 2016 Gemma launched her very own music agency, Stand Proud Music, specialising in female classical crossover singers for wedding and events throughout the UK. In 2016 Gemma's first solo album entitled "Vera Voce" was released.
Göran Edman
I started my career with a metal band called Madison in the early 80's. We moved to Gothenburg and soon one thing led to another.
John Norum , Yngwie Malmsteen -89 
I recorded two albums with him .
After that I invested in a home studio to make me more independent so I could record my vocals unlimited and have contributed in various bands and projects thereafter, different genres .
Derek Sherinian 
(Born August 25, 1966) is an American keyboardist who has toured and recorded for Alice Cooper, Billy Idol and Joe Bonamassa among others. He was also a member of Dream Theater from 1994 to 1999, is the founder of Planet X and also one of the founding members of Black Country Communion and Sons of Apollo. He has released eight solo albums that have featured a variety of prominent guest musicians.
Rosalía Sairem 
Rosalía Sairem, singer born in Elche (Alicante, Spain) studied classical singing at the Teresa Berganza Professional Conservatory in Madrid and is the lead singer of the Swedish symphonic metal band Therion, with whom she has just recorded two albums. Rosalia has worked in various formations of very different styles, from gospel or popular music choirs, dance orchestras, to tributes such as "Symphonic Rhapsody of Queen", "History of rock" and "Symphonic of Pink Floyd". During these last years she has collaborated with great Spanish bands such as "Saurom", "Celtian" and projects such as "Legado de una Tragedia" among others.
Thomas Vikström
Singer in the band Therion since 2007. Earlier bands Candlemass, Talk of the town, Stormwind etc. Thomas has participated in Operas and Musicals such as Miss Saigon, Adventures of Hoffman, The Full Monty, Rock Of Ages etc. Toured as a keyboardplayer with the band Talisman and sang live with Vinnie Vincent (Ex Kiss)
Dubbed cartoons,Voices for commercials and jingles, done tons of Studiowork for other artists, both Rock, metal, jazz and pop. Currently co producing The Spanish Folk Metal band Landevir.
Miwa Rosso
Miwa Rosso is originally from Nice. She studied the piano as well as the cello. After obtaining her cello diploma at the Conservatoire National Supérieur de Lyon , she continued her studies in London at the Guildhall School of Music and Drama, as well as at Trieste in Italy. Miwa participates in the name of productions and thus forges a close relationship with lyrical art and dance. At the same time, she collaborates in studio and on stage with names of composers of film music, of musical comedies and for albums of names of popular singers. Passionate about chamber music, she creates the piano and cello duo Leos.
Miwa Rosso is Co-Principal in the BBC Concert Orchestra.
Linnéa Vikström 
Linnéa has, from age 6, worked on numerous musicals such as Annie, Three Penny Opera and West Side Story. She has written and arranged music for multiple stage productions. Competed on national television in 2004 on the swedish TV-show "Lilla Melodifestivalen". Toured with metal band Therion and Kamelot and has reached success with the newly formed band "At the movies" which released 2 albums during the corona pandemic. Linnéa does a lot of background vocals for different projects and bands.