Welcome to The Baskerville Files website
Now on Sale! Order "Sherlock Holmes and the Children of London" and receive an original drawing signed by Vincent Furnier!!!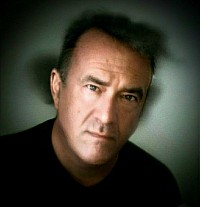 Victor Banner - Writer and Executive Producer
The Baskerville Files Home Page
Here you can find news about the band, music from our first album based on Sherlock Holmes and even the old Stardust Reverie stuff.

"Sherlock Holmes and the Children of London " is the title of a musical graphic novel written by Victor Banner and produced by Jonas Hansson from the swedish metal band Silver Mountain. A lot of friends from the prog and the metal scene have joined us in this adventure named The Baskerville Files: Clive Nolan (Pendragon/Arena), Zuberoa Aznárez (Diabulus in Musica), Derek Sherinian, Rosalia Sairem, Thomas Vikström, Gemma Ashley, Göran Edman (Brazen Abbot) and many others. Chereene Price, first violinist in the BBC Concert Orchestra and former member of Jeff Lynne´s E.L.O. takes the magic to stratospheric levels forming a magnificent team with the father of the swedish metal, Jonas Hansson.